The RAMCHECK 100-pin DDR Adapter (part number INN-8668-11) is a perfect tool for testing and identifying JEDEC-compliant 100-pin DDR SODIMM modules found in today's laser printers, including the popular HP brand. Tests are thorough and typical take just a few seconds. It works with both the RAMCHECK and RAMCHECK LX.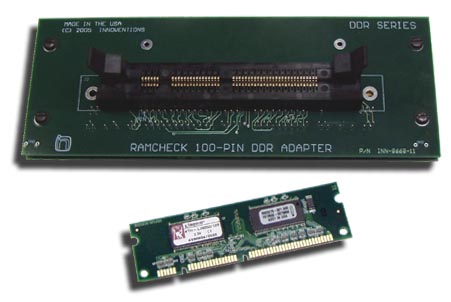 Please send me more info
Our team will contact you as soon as possible.
The adapter uses a high quality, Zero-Insertion-Force (ZIF) test socket which allows you to easily insert and remove the modules. The adapter is mounted on top of the RAMCHECK base tester. No special setup is required. Test flow of the 100-pin DDR modules follows our standard Basic Test, Extensive Test, and Auto-Loop phases. Since the test flow is similar to the RAMCHECK test flow for SDRAM TSOP chips, there is no need for special training.
The following screen captures show RAMCHECK's display during Basic Test.

This example shows testing at 400MHz, CL3 of a 32Mx32 DDR module. The following screen captures some of the structure information in the RAMCHECK's Test Log.

It shows the module as having 2 banks, controlled by -S0 and -S1. The module also uses DQS3..DQS0 and DM3..DM0, in compliance with the JEDEC standard.
Specifications
Supports Burst Length of 2, 4, and 8.
Supports CAS LATENCY of 2, 2.5, and 3.
Clock frequencies: 200MHz, 233MHz, 266MHz, 300MHz, 333MHz, 360MHz, 400MHz, 433MHz and 466MHz.
True 2.5V testing. Automatic 2.6V adjustment for 400MHz tests. User selected voltage in the 2.20V-3.00V range.
Controlled Vtt for true STTL-2 compatibility.
The adapter includes fourteen A13..0 address lines and two BA1..0 bank select address lines to support future larger DDR chips.
Base Tester Requirements
Note: The 100-pin DDR Adapter requires the RAMCHECK. It is not supported by our previous generation of test equipment since DDR technology requires the latest state-of-the-art circuitry. However, all SIMCHECK II/IIse/IILT units can be factory upgraded to the RAMCHECK level in order to support the DDR adapter.
To receive pricing and further information about RAMCHECK memory testing products, please click here, or call INNOVENTIONS at (281) 879-6226.
When ordering, please reference part number INN-8668-11.