RAMCHECK® Sync Chip Test Adapter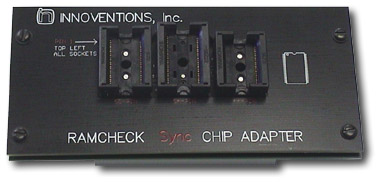 The RAMCHECK Sync Chip Adapter tests popular TSOP SDRAM memory chips in sizes of 32Mx16, 16Mx16, 4Mx16, 32Mx8, 8Mx8, 64Mx4, 16Mx4 and more. Picture above shows the adapter with all optional sockets for 54, 50 and 44-pin. It works with both the RAMCHECK and RAMCHECK LX.
RAMCHECK automatically detects the presence of the RC Sync Chip Adapter.
To receive pricing and further information about RAMCHECK memory testing products, please click here, or call INNOVENTIONS at (281) 879-6226.
When ordering, please reference part number INN-8668-3 (54-pin) or INN-8668-3-A (54/50/44-pin).