THE RAMCHECK DIMMCHECK 72 Pro adapter is an affordable memory test solution for legacy 72-pin SO-DIMM modules.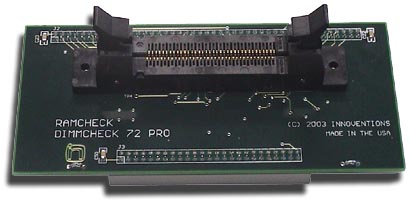 (Note: This adapter has been discontinued.)
When combined with the RAMCHECK/RAMCHECK LX memory tester, this adapter provides support for testing legacy 72-pin SO DIMM modules used in older laptop computers. The RAMCHECK memory tester automatically detects the presence of the RC 72 Pro adapter.
To receive pricing and further information about RAMCHECK memory testing products, please click here, or call INNOVENTIONS at 1 (281) 879-6226.
Note: This adapter can be used only on RAMCHECK equipped to support older legacy memory. It is not supported by our other generation of test equipment. Sync DIMMCHECK 72 Pro Adapters for use with SIMCHECK II PLUS can be upgraded to the RAMCHECK 72 Pro. Contact us for details.
When ordering, please reference part number INN-8668-7.