RAMCHECK LX Testers
RAMCHECK LX DDR3/2
RAMCHECK LX DDR3
RAMCHECK LX DDR2
RAMCHECK LX DDR1
RAMCHECK LX Base Tester

Optional Adapters
240-pin DDR3 DIMM
204-pin DDR3 SO-DIMM adapter
204-pin DDR3 SO-DIMM converter
240-pin DDR2 DIMM
200-pin DDR2 SO-DIMM adapter
200-pin DDR2 SO-DIMM converter
184-pin DDR Pro
200-pin DDR SO-DIMM converter
100-pin DDR SODIMM
66-pin DDR Chip
DDR2 MiniDIMM
168-pin SDRAM
144-pin SDRAM SO-DIMM
100-pin SDRAM SO-DIMM
SDRAM Chip
200-pin Sun DIMM
50-pin EDO TSOP
EDO/FPM SOJ
72-pin SODIMM
30/72-pin SIMM
Which System Is For Me?

Why Buy From Us?
Why Test Memory?
Int'l Distributors
How to Purchase

Tech Support
Service & Upgrades
Manuals
Software Downloads
FAQ
Site Map
Home
Contact us at
(281) 879-6226
sales@innoventions.com
RAMCHECK® 66-pin DDR Chip Converter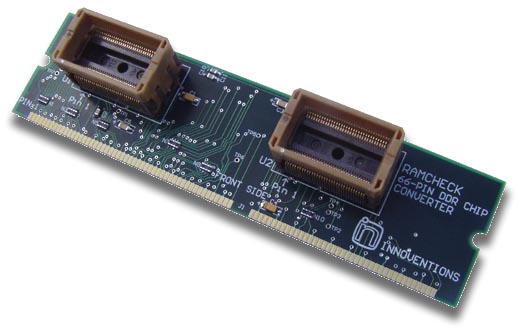 The new RAMCHECK 66-pin DDR Chip Converter (part number INN-8668-9-2) is a low-cost tool for testing 66-pin DDR TSOP chips used in today's memory modules, including 1Gb (128Mx8, 256Mx4), 512Mb (32Mx16, 64Mx8) and smaller (4Mx16, 32Mx8, 8Mx8, 64Mx4, 16Mx4 and 32Mx4) DDR chips. Similar in appearance to our 200-pin DDR SODIMM Converter, the 66-pin DDR Chip Converter easily plugs into the 184-pin RAMCHECK DDR1 adapter, providing you with fast, convenient testing capabilities. Please note that you must have the DDR1 adapter in order to use this converter. If you have the older DDR Series adapter, a low cost DDR PRO conversion is available.

You can test one or two chips simultaneously (the two chips must be of same type). The RAMCHECK tester automatically detects the presence of the converter, indicating "RAMCHECK DDR SERIES" during power on. The chip's size, structure, and type are automatically detected. No special setup is necessary. Test flow of the DDR modules follows our standard Basic Test, Extensive Test, and Auto-Loop process. Since the test flow is similar to the RAMCHECK test flow for SDRAM TSOP chips, there is no need for special training.
Specifications
Supports Burst Length of 2, 4, and 8.
Supports CAS LATENCY of 2, 2.5, and 3.
Clock frequencies: 200MHz, 233MHz, 266MHz, 300MHz, 333MHz, 360MHz, 400MHz, 433MHz and 466MHz.
True 2.5V testing. Automatic 2.6V adjustment for 400MHz tests. User selected voltage in the 2.20V-3.00V range.
Controlled Vtt for true STTL-2 compatibility.
One or two chips simultaneous testing.
The converter also includes fourteen A13..0 address lines and two BA1..0 bank select address lines to support future larger DDR chips.
Click here to view the RAMCHECK 66-pin DDR Chip Converter manual.
To receive pricing and further information about RAMCHECK memory testing products, please click here, or call INNOVENTIONS at (281) 879-6226.
When ordering, please reference part number INN-8668-9-2.