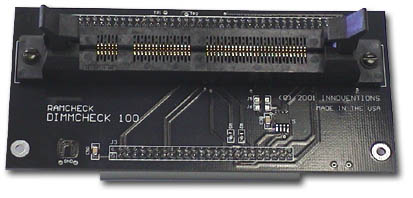 THE RAMCHECK DIMMCHECK 100 Adapter, our affordable SDRAM/EDO SO-DIMM memory testing solution for 100-pin router and laser printer DIMMs.
This addition to the RAMCHECK® memory tester provides needed support for testing of SDRAM and standard EDO/FPM DRAM 100-pin SO DIMM modules at an affordable price. These SODIMM modules are typically found in routers and popular laser printers. This adapter works with both the RAMCHECK and RAMCHECK LX.
RAMCHECK automatically detects the presence of the RC 100 Adapter (p/n INN-8668-5). The tester also automatically determines if the tested module is SDRAM or standard DRAM without the need for special setup.
In fact, you can test standard DRAM devices following an SDRAM, or vice versa, without the need of manual settings. Standard DRAM testing is similar to the regular EDO/FPM test procedure.
Please send me more info
Our team will contact you as soon as possible.
The RC DIMMCHECK 100 Adapter bursts complex pattern tests into and from the tested module, at a true 133MHz (or faster) synchronous rate. The automatic test provides the tested module's size, voltage, frequency, and type. RAMCHECK's internal 184MHz test engine verifies that the tested module can accept the various mode commands, including CAS latency of 1, 2, and 3, sequential, or interleave type bursts at different lengths, and the single write mode. It further verifies interleaved bank operation.
To receive pricing and further information about RAMCHECK memory testing products, please click here, or call INNOVENTIONS at 1 (281) 879-6226.
Note: This adapter can only be used on the RAMCHECK LX or RAMCHECK. It is not supported by our other generation of test equipment. Sync DIMMCHECK 100 Adapters for use with SIMCHECK II PLUS can be upgraded to the RAMCHECK DIMMCHECK 100.