The RAMCHECK SOJ Adapter is a universal test adapter for EDO/FPM SOJ chips. It provides support for common 42, 40, 32, 28, 26 and 20-pin EDO/FPM DRAM SOJ chips of sizes 256Kx16/18, 1Mx16/18, 8Mx8, 16Mx4, 2Mx8, 4Mx4, 16Mx1, 1Mx4, and 4Mx1. It works with both the RAMCHECK and RAMCHECK LX.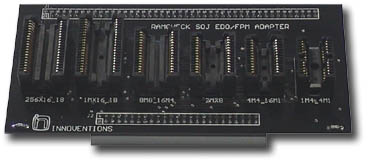 Please send me more info
Our team will contact you as soon as possible.
The RAMCHECK memory tester automatically detects the presence of the RAMCHECK SOJ EDO/FPM Adapter (p/n INN-8668-4). The memory tester also automatically determines the size and speed of the tested chip without need for special setup.
Standard DRAM testing is similar to the regular SIMM or DIMM test procedure.
To receive pricing and further information about RAMCHECK memory testing products, please click here, or call INNOVENTIONS at (281) 879-6226.
Required RAMCHECK Firmware Version: 2.18 or higher.
When ordering, please reference part number INN-8668-4.