The RAMCHECK 200-pin DDR2 SO-DIMM Adapter (p/n INN-8668-14) is the perfect solution for quickly testing and identifying large numbers of DDR2 laptop SO-DIMM memory. (A converter solution is available for users with low-volume SO-DIMM test requirements.) The adapter supports testing of 200-pin PC2-3200, PC2-4300, PC2-5300/PC2-5400 and PC2-6400 DDR2 SODIMM 64-bit memory that comply with JEDEC standards.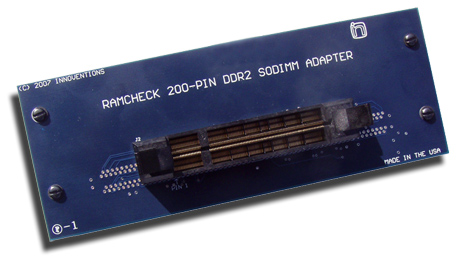 Click here to download the one page spec sheet.


Please send me more info
Our team will contact you as soon as possible.
As with all of our products, no special setup is required. Simply plug in the adapter, turn on the RAMCHECK tester, insert a module into the rugged test socket and then press then press the start button. That's it! In seconds RAMCHECK will test and identify the SO-DIMM module.
We have incorporated the same state-of-the-art technology into the design as that found in the RAMCHECK DDR2 Adapter. The module's size, structure, and type are automatically detected, without the need for special user setup. The test flow follows our standard Basic Test, Extensive Test, and Auto-Loop process. Little training is required.
Also, please note that SO-CDIMM and SO-RDIMM modules are non JEDEC-compliant memory modules that have a similar appearance to standard DDR2 SO-DIMMs and use similar connectors. The pinouts of these SO-CDIMM and SO-RDIMM modules are different than the standard JEDEC 200-pin 64-bit SODIMM modules. The SO-CDIMM and SO-RDIMM modules are not supported by this adapter since they require completely different wiring. If you need to test these modules, please contact our Technical Support Department, support@innoventions.com.
DDR2 Frequency Support
The RAMCHECK DDR2 adapter (p/n INN-8668-15) can perform DDR2 tests at actual test frequencies up to 866MHz. Please note that the previous release of the RAMCHECK DDR2 adapter (p/n INN-8668-12) has a reduced frequency support as described here. The new DDR2 test engine can achieve 1066MHz internal diagnostic speeds. Please see the product specifications for futher details.
RAMCHECK DDR2 Coverage
PC2-3200
PC2-4200
PC2-5300
PC2-5400

PC2-6400
DDR2-400Mhz
DDR2-533Mhz
DDR2-667Mhz
DDR2-800Mhz
Test at full frequency
Test at full frequency
Test at full frequency
Test at full frequency
The DDR2 SODIMM adapter manual addendum is available online.
When ordering, please reference RAMCHECK DDR2 Adapter part number INN-8668-14.