The RAMCHECK SIMM Adapter provides a needed solution for testing older 72-pin EDO/FPM DRAM SIMM modules. An optional adapter for 30 and 72-pin SIMMs is also available (pictured above). It works with both the RAMCHECK and RAMCHECK LX.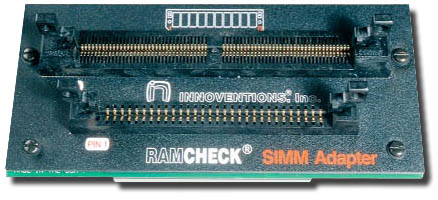 Please send me more info
Our team will contact you as soon as possible.
The RAMCHECK memory tester automatically detects the presence of the RAMCHECK SIMM Adapter. The tester also automatically determines if the tested module is EDO or FPM without the need for special setup.
The RAMCHECK SIMM Adapter is available now and works with any RAMCHECK base unit equipped with the legacy support option for older memory. To receive more information on the RAMCHECK product line, please contact your dealer or e-mail us at sales@innoventions.com
To receive pricing and further information about RAMCHECK memory testing products, please click here, or call INNOVENTIONS at 1 (281) 879-6226.
Note: This adapter can be used only on RAMCHECK. It is not supported by our older SIMCHECK generation of memory test equipment.
When ordering, please reference part number INN-8668-2 (72-pin), or INN-8668-2-A (30 and 72-pin).