RAMCHECK® 50-pin TSOP Chip Adapter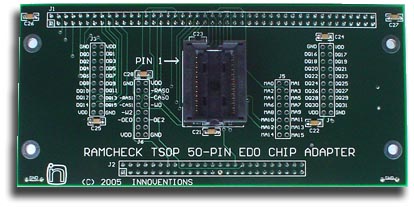 An affordable solution for testing older legacy EDO TSOP chips.
This new adapter (p/n INN-8668-10) tests 50-pin 4Mx16 EDO TSOP chips. It's also a good starting platform for customers who wish to customize an adapter for testing other older legacy memory devices, thanks to its built-in connectors. The built-in connectors can accommodate standard pin headers, and all signals are explicitly marked on the board for easy design. It works with both the RAMCHECK and RAMCHECK LX.
The RAMCHECK TSOP 50-Pin EDO Chip Adapter is available now and works with any RAMCHECK base unit equipped with the legacy support option.

To receive pricing and further information about RAMCHECK memory testing products, please click here, or call INNOVENTIONS at (281) 879-6226.
Required RAMCHECK Firmware Version: 2.24
When ordering, please reference part number INN-8668-10.