DIMMCHECK 168 Adapter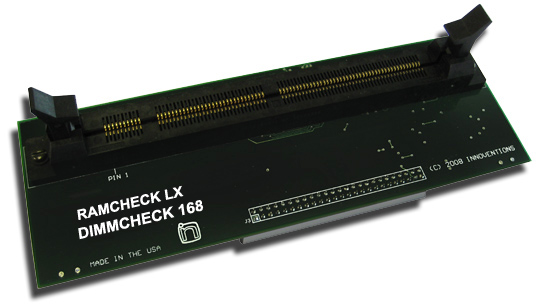 The DIMMCHECK 168 adapter (p/n INN-8686-1) is for testing 168-pin SDRAM, including PC150/133/100/66, plus EDO and FPM modules. It works only with the RAMCHECK LX memory tester or RAMCHECK LX packages.

As with all of our test products, no special setup is required. Simply plug in the DIMMCHECK 168 adapter, turn on the RAMCHECK LX tester, insert a module into the rugged test socket and then press the start button.

The module's size, structure, and type are automatically detected, without the need for special user setup. The test flow follows our standard Basic Test, Extensive Test, and Auto-Loop process. Little training is required.

To receive pricing and further information about the DIMMCHECK 168 adapter and our memory testing products, please complete our information request form, or call INNOVENTIONS at 1 (281) 879-6226. When ordering, please reference part number INN-8686-1.