RAMCHECK® 200-Pin DIMM Adapter for
Sun MicrosystemsTM Computers

The RAMCHECK 200-pin DIMM adapter offers an affordable way to test Sun Microsystems computer memory.
The RAMCHECK 200-pin DIMM Adapter allows you to test 200-pin FPM/EDO DIMM (Dual-Inline-Memory-Module) modules with a basic configuration of 144 bits, as used in the Sun Sparc Stations and other Sun Microsystem computers. It works with both the RAMCHECK and RAMCHECK LX.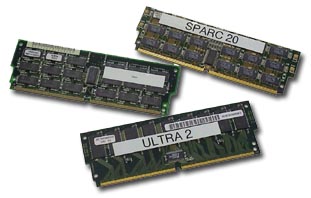 The 200-pin DIMM module is similar in appearance to the old 72-pin SIMMs with the main differences being the arrangement of the 200 pins along a double sided 100x2 edge connector and larger memory chips. The module provides 144 bits (9 words) which are controlled by one or two -RAS lines, two -CAS lines, and one -W line. The RAMCHECK 200-pin DIMM Adapter is automatically recognized by the RAMCHECK memory checker. All memory cells are fully tested, with a parallel write/read operation. The test flow is similar to the other RAMCHECK adapter tests.
| | | |
| --- | --- | --- |
| | | During Basic Test, the familiar Bytes B1...B8 display is changed to WORDS: W1 ... W9 to accomodate the module x144 bits width which equal to nine 16-bit words. |
| | | |
| | | After Basic Test, the test results screens provide various details about the tested module. All of these screens are also stored in the Test Log. The module in this example uses two -RAS lines and two -CAS lines. |
| | | |
| | | A data bit error is clearly indicated using the familiar RAMCHECK menu. This display appears after you press the down button in the menu. It indicates the bit number (DQ106 in the example) and the actual pin number (159) of the defective bit. You can scroll left and right to see other errors, and use the up/down buttons to access additional error information. |
The RAMCHECK 200-pin Sun DIMM Adapter is available now and is supported on any RAMCHECK with the legacy support option.
To receive pricing and further information about RAMCHECK memory test products, please click here, or call INNOVENTIONS at (281) 879-6226.
Note: This adapter can be used only on RAMCHECK. It is not supported by our other generation of memory test equipment. SIMCHECK II 200-Pin DIMM adapters for use with SIMCHECK II PLUS can be factory converted to the RAMCHECK 200-Pin DIMM Adapter. Please contact us for details.
When ordering, please reference part number INN-8668-8.
Sun, Sun Microsystems, Ultra and Sparc are trademarks or registered trademarks of Sun Microsystems, Inc. in the United States and other countries.