Memory Tester Products
RAMCHECK Line
RAMCHECK PLUS
RAMCHECK DDR Only
SIMCHECK II Line
SIMCHECK II LT PLUS
Refurbished LT PLUS
SIMCHECK II PLUS
SIMCHECK II Adapters

Sync DIMMCHECK 168
Sync CHIP Tester
Sync DIMMCHECK 144
Sync DIMMCHECK 100
200-pin DIMM Adapter
DIMMCHECK 168P PRO
DIMMCHECK 144P PRO
DIMMCHECK 72P PRO
SOJ Adapter
PC Communication
Product FAQ
---
Which System Is For Me?

Why Test Memory?
Int'l Distributors
How to Purchase
Free Newsletter
---
Tech Support
Service & Upgrades
Manuals
Software Downloads
FAQ
---
Site Map
Home
Contact us at
(281) 879-6226
sales@innoventions.com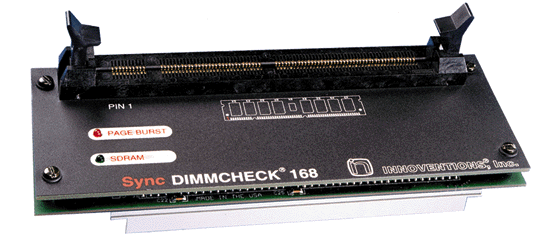 YOUR TOTAL 133MHz SDRAM & EDO/FPM DIMM TESTING SOLUTION IN ONE AFFORDABLE ADAPTER.
| | |
| --- | --- |
| | Affordably priced at US $895, the Sync DIMMCHECK 168 adapter has a proprietary 133MHz SDRAM test engine with enough horsepower to fully and quickly test today's 133 MHz SDRAM at actual clock speeds. |
| | Supports all popular 168-pin SDRAM and standard EDO/FPM DRAM DIMM modules. |
| | Automatic test provides size, speed, type, and detailed structure information. |
| | Comprehensive Page Burst and Bank Interleave tests, with complex test pattern capabilities. |
| | Full SDRAM mode tests, including CAS latency of 1,2, and 3, sequential/interleave addressing mode, variable burst lengths, and single write mode. |
| | Support for Serial Presence Detect (SPD) data, includes reading, editing and programming. |
| | Sync DIMMCHECK 168 easily snaps onto the SIMCHECK II or SIMCHECK II se, and is automatically recognized by the tester without the need for user setup. |
Our new addition to the SIMCHECK® II line provides a state-of-the-art solution for testing SDRAM and standard EDO/FPM DRAM 168-pin DIMM modules at an affordable price. The new Sync DIMMCHECK 168's patent-pending 133MHz test engine, as well as the SIMCHECK II line's 1nS technology, combine to achieve true 133MHz testing of your SDRAM modules.
| | |
| --- | --- |
| | SIMCHECK II and IIse automatically detect the presence of the Sync DIMMCHECK 168. Each tester also automatically determines if the tested module is SDRAM or standard DRAM. |
In fact, you can test standard DRAM following an SDRAM, or vice versa, without theneed of manual settings. Standard DRAM testing is similar to our regular DIMMCHECK 168P PRO in that all popular EDO/FPM/ECC 3.3V/5V buffered/unbuffered DIMMs are supported.
| | |
| --- | --- |
| As SDRAM technology substantially differs from standard DRAM, the Sync DIMMCHECK 168 provides many new features and capabilities to provide comprehensive testing of your SDRAM modules. | |
The Sync DIMMCHECK bursts complex pattern tests, into and from the tested module, at a true 133MHz synchronous rate. The automatic test provides the tested module's size, voltage, frequency, and type. The 133Mhz test engine verifies that the tested module can accept the various mode commands, including CAS latency of 1, 2, and 3, sequential, or interleave type bursts at different lengths, and the single write mode. It further verifies interleaved bank operation.
| | |
| --- | --- |
| | A summary screen provides final test information, including identification of the module as a 2 or 4 clock device. |
| | |
| --- | --- |
| Detailed structure information outlines the use of the DQMB and -S control signals in the tested module. All results are automatically recorded in the SIMCHECK test log, and can be viewed and printed on your PC. | |
| | |
| --- | --- |
| | The Serial Presence Detect (SPD) viewer allows you to fully view all 256 bytes of information, or it can be configured to display only the bytes employed by the module. |
You can edit and reprogram the SPD from your PC using SIMCHECK's built-in serial interface. (Note that the PC Interface is NOT required for normal testing.)
As we continue to develop the Sync DIMMCHECK 168 test program, we plan to add more features and enhance those already implemented. To protect your investment, you can readily upgrade your SIMCHECK II firmware via the Internet at no charge.
Sync DIMMCHECK 168 is supported on the SIMCHECK II and SIMCHECK II se testers. To receive pricing and further information about SIMCHECK II memory testing products, please click here, or call INNOVENTIONS at (281) 879-6226.
You may review the online manual addendum for the Sync DIMMCHECK 168.
Note: This adapter can be used only on SIMCHECK II or SIMCHECK II se. It cannot be supported by our previous generation of SIMCHECK PLUS.
Required SIMCHECK II Firmware Version: 1.55 or higher.