SIMCHECK II PLUS Memory Tester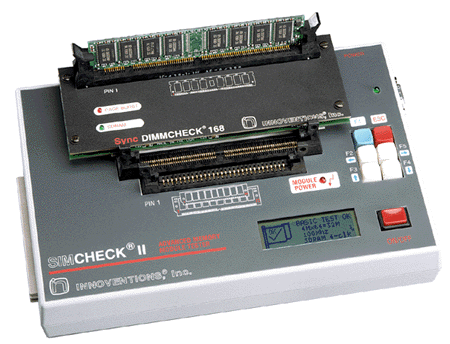 The SIMCHECK II PLUS (p/n INN-8558-PLUS) ram tester is our third generation test system that combines the popular SIMCHECK II and the powerful Sync DIMMCHECK 168 Adapter in one affordable package, which allows you to test all of your 30-pin, 72-pin, and 168-pin SDRAM/EDO/FPM modules. The SIMCHECK II PLUS combines the Sync DIMMCHECK 168's patent-pending 133MHz test engine, and the SIMCHECK II line's 1nS technology to achieve true 133MHz testing of your SDRAM modules.
All the features and benefits of the SIMCHECK II (p/n INN-8558) and the Sync DIMMCHECK 168 (p/n INN-8558-6) are included in the SIMCHECK II PLUS package. All the optional adapters of SIMCHECK II can be used with the SIMCHECK II PLUS. Please click the above links to see why the SIMCHECK II PLUS will solve all your memory testing needs.
Customers with SIMCHECK II can easily upgrade to the SIMCHECK II PLUS by simply purchasing the Sync DIMMCHECK 168.
SPECIAL OFFER!
We now offer a Factory Refurbished SIMCHECK II PLUS at a fraction of its original cost and with our regular limited one year warranty. Click here to find out more!
Please review the complete SIMCHECK II Product List and the SIMCHECK II PLUS' Technical Specifications.
To receive pricing and further information about SIMCHECK II memory testing products, please click here, or call INNOVENTIONS at (281) 879-6226.

Customers having SIMCHECK II PLUS can also upgrade to the more powerful RAMCHECK level at any time. Please review our SIMCHECK II to RAMCHECK Upgrade page for further information.