THIS ITEM IS NOT IN PRODUCTION AND IS NO LONGER AVAILABLE.
200-PIN DIMM ADAPTER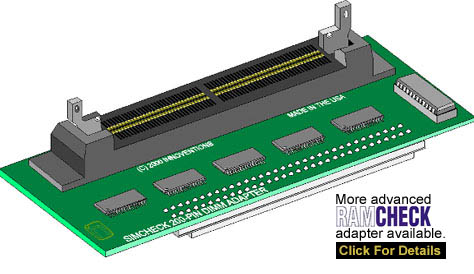 200-pin Sun DIMM Module Tester
The 200-pin DIMM ADAPTER (p/n INN-8558-10) enables SIMCHECK II to test 200-pin FPM/EDO DIMM (Dual-Inline-Memory-Module) modules with a basic configuration of 144 bits used in the Sun Sparc Stations and other Sun Microsystem computers. This adapter was designed in the 90s and supported the original Sun modules. However, since the modules designs have been changed by the memory manufacturers, this adapter has become obsolete and is no longer available. We have since developed an advanced version that properly supports these modules on the RAMCHECK system.
Existing SIMCHECK II Sun DIMM adapters can be converted at an affordable cost to the RAMCHECK DIMMCHECK 200 adapter for use with our new RAMCHECK memory tester.
To receive pricing and further information about SIMCHECK II memory testing products, please click here, or call INNOVENTIONS at (281) 879-6226.
Sun, Sun Microsystems, Ultra and Sparc are trademarks or registered trademarks of Sun Microsystems, Inc. in the United States and other countries.