Memory Tester Products
RAMCHECK Line
RAMCHECK PLUS
RAMCHECK DDR Only
SIMCHECK II Line
SIMCHECK II LT PLUS
Refurbished LT PLUS
SIMCHECK II PLUS

SIMCHECK II Adapters
Sync DIMMCHECK 168
Sync CHIP Tester
Sync DIMMCHECK 144
Sync DIMMCHECK 100
200-pin DIMM Adapter
DIMMCHECK 168P PRO
DIMMCHECK 144P PRO
DIMMCHECK 72P PRO
SOJ Adapter
PC Communication
Product FAQ
---
Which System Is For Me?

Why Test Memory?
Int'l Distributors
How to Purchase
---
Tech Support
Service & Upgrades
Manuals
Software Downloads
FAQ
---
Site Map
Home
Contact us at
(281) 879-6226
sales@innoventions.com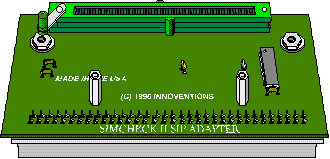 The optional SIMCHECK II SIP Adapter (p/n INN-8558-1) enables previous SIMCHECK owners to use their individual DRAM chip adapters on SIMCHECK II by providing the use of a SIP socket. This adapter is conveniently installed on SIMCHECK II's 90-pin expansion slot, and in addition to testing older SIP memory modules, it can readily accept SIMCHECK adapters such as the SINGLE CHIP ADAPTER, PLCC/SOJ ADAPTER, ZIP ADAPTER, and many others.
Below is a list of supported adapters:
| | |
| --- | --- |
| Required SIMCHECK II Firmware Version: | 1.55 or above |

To receive pricing and further information about SIMCHECK II memory testing products, please click here, or call INNOVENTIONS at (281) 879-6226.