---

---
ZIP DRAM ADAPTER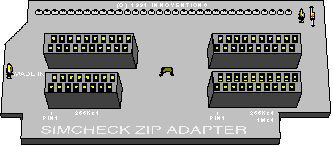 The ZIP ADAPTER enables SIMCHECK to test individual DRAM chips which are packaged in the ZIP (Zigzag Inline Package) standard. This adapter tests 256Kx1, 1Mx1, 4Mx1, 64Kx4, 256Kx4 and 1Mx4. The adapter uses four high quality, burn-in type sockets. SIMCHECK automatically recognizes the presence of the ZIP ADAPTER, and the test is similar both in appearance and function to the SINGLE CHIP ADAPTER test.
OPERATION
Connect the adapter to your SIMCHECK SIP ZIF (green) socket when SIMCHECK is either ON or OFF.
If the ZIP chip is 256Kx1 it will have 16 pins, while ZIP chips of other sizes have 20 pins. The four sockets are arranged as follows:
U1: 1Mx1, 4Mx1
U2: 256Kx4,1Mx4
U3: 256Kx1
U4: 64Kx4
The size markings are also printed on the board for easy identification.
Insert the ZIP chip into the corresponding socket, making sure that pin 1 faces to the left. The top corner of the ZIP chip where pin 1 is located is marked by a small slanted cut. If the ZIP chip has 16 pins, insert it in socket U3. If the ZIP chip has 20 pins and you are not sure what size it is, you can safely test it in all three 20-pin sockets to determine its size. The ZIP chip is tested by SIMCHECK only when it is inserted in the correct socket.
Once the ZIP chip is inserted, press F1 to start the test. The test procedure is exactly the same as our SINGLE CHIP ADAPTERS. YOU CAN TEST ONLY ONE ZIP CHIP AT A TIME.
When removing a ZIP chip, you must hold the adapter board down with one hand while pulling the chip up with the other hand. The best point to hold the board is on the word ZIP at the bottom of the board.
Required EPROM Version: 1.35 or above.
---

Back To Home Page