Industry-leading technology, built on our 20-year reputation for providing the world's best portable memory testers
The RAMCHECK LX base tester is the expandable solution for testing DIMMs, SODIMMs and chips. Featuring a large, bright, high-contrast display and fast USB interface, RAMCHECK LX makes memory tests faster and more hassle-free than ever. It works with all of our current adapters, including adapters for testing
DDR3
,
DDR2
and older
DDR
memory.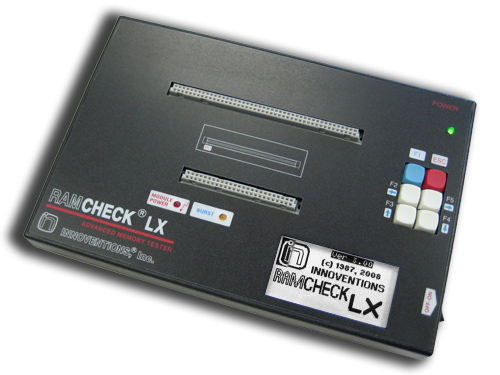 Please send me more info
Our team will contact you as soon as possible.

The RAMCHECK LX base is compatible with all existing RAMCHECK adapters, allowing current RAMCHECK users to take full advantage of the LX's features and capabilities with no hassles. Just plug in your existing adapter and the RAMCHECK LX is ready to use.

RAMCHECK LX requires no setup to use. Plug in the adapter (DDR3, DDR2, DDR1, 168-pin SDRAM, etc.,) turn the RAMCHECK LX on, insert a memory module into the test socket and then press the start button. That's all it takes!
See how easy it is to use RAMCHECK LX for yourself:
RAMCHECK LX and its various adapters are both modular and very user friendly. In fact, the RAMCHECK LX system includes features found in testers that cost 10 times more!
Introducing the RAMCHECK LX
RAMCHECK LX (shown with DDR2 adapter) features a large vivid display measuring 2.7" x 1.43" (69mm x 36.5mm). Easily viewable at an angle, from 3-4 feet away. Seen here is the startup screen once the RAMCHECK LX is turned on.
Basic Test
Basic Test screen shows the size, the speed, the voltage, the test pattern, the module's bank and the CAS Latency. This example shows testing at 667MHz with an automatic setting of CAS Latency to the default value of CL=4 for this frequency.
Successful test phases conclude with a clear 'Pass' message and with distinguishing sound tones. Important parameters are shown in this screen, followed by a detailed test results summary screen.
Test Results
Test results summary screens provide a wealth of information after each test phase. All summary screens are also added to the Test Log.
Test Log collects and retains all intermediary test results while the memory devices undergo all of the test phases. The Test Log remains until a new test is initiated. The Test Log may be uploaded to a PC for printing via the USB interface. You can also save the file.
Extensive Test
The EXTENSIVE Test performs various tests to establish memory quality.
VOLTAGE CYCLING performs tests under allowable voltage deviations from the recommended VDD setting.
MODE Test identifies various operational parameters of the device, including different bursts lengths and CAS latency settings.
VOLTAGE BOUNCE tests data retention during voltage variation between read and write.
MARCH UP/DOWN reveals adjacent cell interference problems.
CHIP HEAT MODE tests at elevated operating temperatures.
AUTO LOOP tests memory with endless pattern changes. Great for burn-in testing.
The RAMCHECK LX provide advanced setup features. Certain timing parameters may be selected graphically as shown here.
Make changes "on-the-fly" to test parameters with the push of a button.
SPD Editor
The device's SPD can be conveniently viewed, edited and programmed on the RAMCHECK LX. You can also use our advanced SPD features in the PC RAMCHECK LX communications program.
The test process for the RAMCHECK LX DDR2 follows the same test flow as the older RAMCHECK model. Each module's type, size, and structure are automatically detected, and the test flow follows our standard Basic Test, Extensive Test, and Auto-Loop process.
The RAMCHECK LX can also be purchased in the following popular combination packages: RAMCHECK LX DDR3/DDR2, RAMCHECK LX DDR2/1, RAMCHECK LX DDR2, and the RAMCHECK LX DDR1.
RAMCHECK LX Specifications:
Dimensions: 9.5" x 6.3" x 2.5".
Net Weight: @4 lbs.
Part number: INN-8686

The RAMCHECK LX package includes:

· The RAMCHECK LX base tester, p/n INN-8686
· A universal 240/100VAC switching power supply
· A USB cable
· CD Companion (includes detailed RAMCHECK LX Manual & PC programs)
· 50-page printed manual
· A carrying case

(Also available is a discounted RAMCHECK LX package containing the DDR3, DDR2 and DDR1 DIMM adapters. Reference part number INN-8686-DDR321).

You may also review our Technical Specifications and complete RAMCHECK LX Product List.
The
RAMCHECK LX manual and addendum
are available online.
Please click here for pricing and further information, or call INNOVENTIONS at 1 (281) 879-6226. When ordering, please reference part number INN-8686.