RAMCHECK LX Now Supports DDR3 LRDIMM
The RAMCHECK DDR3 Adapter (p/n INN-8668-16) supports testing 240-pin DDR3 LR-DIMM (load-reduced) 16GB and 32GB server memory that complies with JEDEC standards. (For testing 64GB LRDIMM, please see the section on known limitations at the bottom of this page.)
LR-DIMM testing is available only with the RAMCHECK LX base tester (INN-8686). The older RAMCHECK base tester (p/n INN-8668) does not have the current consumption (i.e. power) capabilities needed for testing DDR3 LR-DIMM server modules. Please note that a RAMCHECK base tester can be factory converted to the RAMCHECK LX level.
Please send me more info
Our team will contact you as soon as possible.

DDR3 LRDIMM modules include an advance Memory Buffer (MB) device that interfaces the memory devices to the module's connector. The MB device requires an elaborated configuration by the RAMCHECK LX tester, and in turn it provides access to all the ranks of the module.
DDR3 LR-DIMM (Load-Reduced) Modules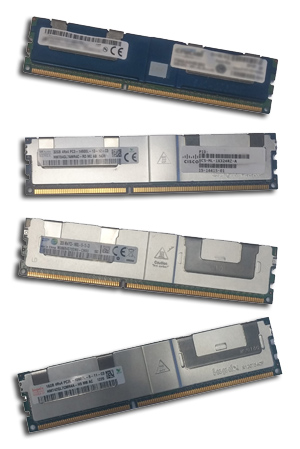 DDR3 LRDIMM modules are visually distinguished from regular DDR3 modules by the metal casing and the unique raised rectangle near the middle of the module under which the MB is placed. The samples shown above use a vertical placement of the MB device. Other modules may use horizontal placement for the MB.
As with all of our RAMCHECK LX test configurations, each module's size, structure, and type are automatically detected, without the need for user's setup. The RAMCHECK DDR3 adapter is very simple to operate, with little training or setup required.
Because the DDR3 LRDIMM modules use the MB device (which has built-in advanced memory testing capabilities), the test flow for LRDIMM modules is substantially different than the standard RAMCHECK LX test flow.