| | |
| --- | --- |
| RAMCHECK Firmware Download | |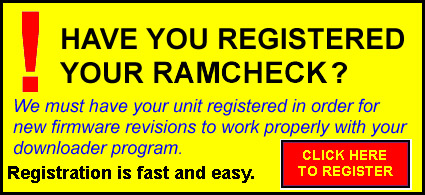 This page contains the updated Firmware file available for the RAMCHECK product line.
Automated Firmware Update
Using Version 2.19 of the RAMCHECK Communications program you can download the updated firmware files from our FTP server onto the RAMCHECK's Flash memory in a single operation called Automated Firmware Update. You must register your product to receive your password for this feature. If you have an earlier version of the Communication program, please click here to download the new version.
Manual Firmware Update
Downloading the RAMCHECK firmware requiring the following login:
To contact our Tech Support: Call (281) 879-6226 M-F 9:00-5:00 Central Time, or send your E-mail to support@innoventions.com.
Product operation and specifications are subject to change without prior notice.
---
RAMCHECK BETA PROGRAMS

This page is reserved for official beta reviewers ONLY!.
---
Copyright notice: All the files which are accessible from this site are copyright (c) 1995, 2008 by INNOVENTIONS, Inc. All rights reserved. These files are intended for use only by registered owners of our products, under the INNOVENTIONS' standard license agreement.