Test PC400+ DDR and SDRAM
with RAMCHECK Plus Pro
(Please note: RAMCHECK is obsolete and has been superseded by the RAMCHECK LX memory tester.)
Affordable high speed memory testing for DDR and older SDRAM modules is finally available. RAMCHECK Plus Pro identifies and thoroughly tests PC466/433/400/333/ 266/200 DDR DIMMs, plus 168-pin PC166/150/ 133/100/66 SDRAM and EDO/FPM modules. With its optional adapters, RAMCHECK Plus Pro tests SODIMM modules for laptop PCs, old SIMM modules and more, including 200-pin laptop PC SODIMMs and 66-pin DDR chips. Adapters are also available for testing DDR3 and DDR2 modules.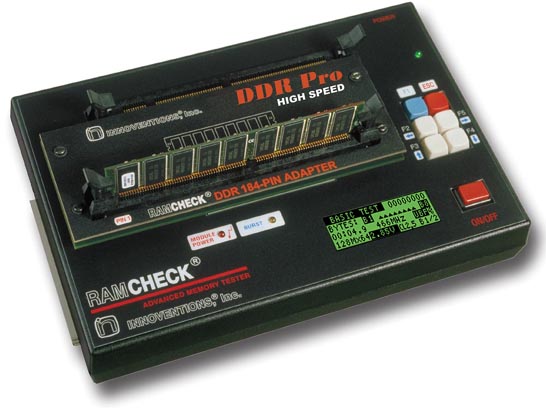 RAMCHECK Plus Pro is hands-down the most cost-effective tool for testing and identifying high-speed DDR and older 168 pin SDRAM DIMM modules. In fact, RAMCHECK Plus Pro includes features that you would expect to find with test equipment that costs $10,000 or more.
As with the other memory testers in the RAMCHECK line, RAMCHECK Plus Pro is portable, fast, and simple to use. Just turn the tester on, insert the memory module into the rugged test socket, and press the F1 start button to begin the test. (Click here for sample test times.) You won't have to program complex setup parameters or pour through lengthy technical manuals to use it. Do you need to overclock the memory under test, testing it at a higher frequency? Setting up your own test parameters is easy.
Upgrading RAMCHECK Plus Pro is simple. To ensure that your tester will test the latest memory, just download the new firmware releases from the support section of our website and flash it to the tester. A Windows PC software program is included at no additional charge to streamline the upgrade process. You'll be able to print and log test results. It also includes a powerful SPD (Serial Presence Detect) editing tool to for editing/programming/saving SPD information.

The clear and brightly-lit LCD display shows all the information you need during the test. Each memory module's size, type and structure are automatically detected and displayed. There is no complex set-up procedure to learn.
Please send me more info
Our team will contact you as soon as possible.
With RAMCHECK PLUS PRO, you can test
184-pin PC3700 DDR
184-pin PC3500 DDR
184-pin PC3200 DDR
184-pin PC2700 DDR
184-pin PC2100 DDR
184-pin PC1600 DDR
RAMCHECK PLUS PRO includes:
RAMCHECK main unit (p/n INN-8668)
DDR1 184p adapter (p/n INN-8668-9)
NOTE: The DDR1 adapter is often referred to as DDR PRO as it replaced an older DDR1 adapter.
Universal 240/100VAC switching power supply
Serial cable
Windows PC Interface (Includes a detailed RAMCHECK manual and PC software programs for printing test results and editing SPD files. The PC Interface is not required to use RAMCHECK PLUS PRO.)
Printed manual
Rugged carrying case
Limited 1-year warranty

Click here to download the one page spec sheet.

The DDR Pro Manual Addendum is also available.
Please click here for pricing and further information, or call INNOVENTIONS at 1 (281) 879-6226.