RAMCHECK DDR2 Combination Package
(Please note: RAMCHECK is obsolete and has been superseded by the RAMCHECK LX memory tester.)
The RAMCHECK DDR2 memory tester (p/n INN-8668-DDR2) is the most cost-effective tool available to quickly test large volumes of DDR2 RAM. (Note: Separate adapters are available for testing DDR3 and older DDR modules.)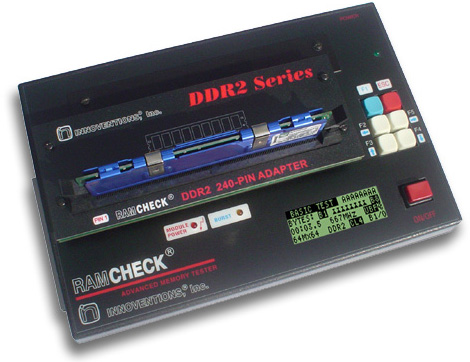 RAMCHECK DDR2 can be used "right out of the box." No lengthy manuals to wade through, no complex set up procedures to follow. Simply turn the unit on, insert your memory module into the rugged test socket, then press the start button. (Of course, RAMCHECK DDR2 allows you to define your own testing parameters if your application requires it.)
RAMCHECK DDR2 is easy to upgrade by downloading the latest firmware updates directly from our website. A powerful PC interface is included, providing you with everything you need to log, print and save your test results. A convenient SPD wizard is even included for viewing and programming SPD information. Click here for complete list of the RAMCHECK DDR2 tester's features and capabilities.

During each test, the module's size, type and structure are automatically detected. The initial Basic test is very fast. For more exhaustive testing, RAMCHECK DDR2/DDR1 will then perform the Extensive and AutoLoop test phases. You may halt the test process at any time.

Please send me more info
Our team will contact you as soon as possible.
With RAMCHECK DDR2, you can test
240-pin PC2-3200 DDR2
240-pin PC2-4200 DDR2
240-pin PC2-5400 DDR2
240-pin PC2-6400 DDR2
RAMCHECK DDR2 includes:
RAMCHECK* base unit (p/n INN-8668)
DDR2 240p adapter (p/n INN-8668-12)
Universal 240/100VAC switching power supply
Serial cable
Windows PC Interface (Includes a detailed RAMCHECK manual and PC software programs for printing test results and editing SPD files. The PC Interface is not required to use RAMCHECK DDR2/DDR1.)
Printed manual
Rugged carrying case
Limited 1-year warranty
* Does not support older SDRAM, EDO or FPM memory formats.

Click here to download printable RAMCHECK product specifications.

The DDR2 Manual Addendum is also available.

IMPORTANT: Please see this page for information about testing DDR2 fully-buffered FB-DIMM devices.
Please click here for pricing and further information, or call INNOVENTIONS at 1 (281) 879-6226. When ordering, please reference part number INN-8668-DDR2.