The RAMCHECK LX memory tester offers you an affordable way to quickly and reliably test and identify all popular laptop and desktop computer memory, including DDR4 (available soon), DDR3, DDR2, PC466/433/400 DDR and 168-pin SDRAM. With its optional adapters, you can also test DDR3 LRDIMM, 204-pin DDR3 SO-DIMM and 200-pin laptop SODIMM, DDR chips, Sun Microsystems memory, even legacy SIMMs, EDO and FPM modules.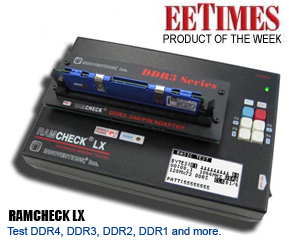 | | |
| --- | --- |
| | DDR4 (DIMM, SODIMM, LRDIMM), DDR3, DDR2, DDR1 |
| | 168-pin SDRAM |
| | SO-DIMMs* |
| | SIMMs* |
| | Chips* |
*With optional adapters.
To test a module, identify it and do a speed verification, simply turn on the RAMCHECK LX memory tester, insert a memory module into the test socket, then press the Start button. Since there are no complex setup processes to master, the RAMCHECK LX memory tester can be used "out of the box." Of course, you can also customize the test parameters if you have more advanced testing needs.
The RAMCHECK tester relies on a powerful high-frequency test engine. With its proven test algorithms and modular, expandable design, RAMCHECK delivers fast, superior memory testing at an affordable price.
The RAMCHECK memory tester is also simple to upgrade, with free firmware upgrades available via the Internet. A PC software program is also included, allowing you to print and log the test results and edit SPD data.
RAMCHECK LX features a bright, vivid display easily visible from any angle, plus a fast USB connection.
The RAMCHECK LX DDR3 RAM checker can test and identify a 1GB DDR3 DIMM in less than 30 seconds.
RAMCHECK LX is simple to use. It features a bright, vivid display easily visible from any angle, plus a fast USB connection to your PC for printing test results.
RAMCHECK LX works with all current RAMCHECK adapters and is available in different packages that best fit your testing needs.
If you are using a motherboard to test memory you know that it can take hours or even days. Conflicts between the memory and the motherboard can make it appear that the memory is faulty, yet the memory may work just fine in another computer. Worse, the memory sockets on PC motherboards are not meant for repeated insertion/removal of modules and will quickly break! The RAMCHECK LX memory tester will test and identify your memory module in just seconds. It uses rugged sockets made specifically for high-volume memory testing that will last for thousands of cycles. You won't have to wade through a lengthy set-up process.
Special Promotions

Factory-refurbished RAMCHECK DDR2 and RAMCHECK DDR memory testers are now available at a fraction of the cost of a new tester.
The RAMCHECK DDR3 manual addendum is now available.
Products

If you are one of our many loyal SIMCHECK II users, we offer a substantial trade-in discount for the RAMCHECK LX memory tester packages.

Many optional test adapters are available for the RAMCHECK LX for a wide range of memory formats, including DDR3, DDR2 and DDR1 SODIMM laptop memory modules, LR-DIMM, LO-DIMM, 144p SO-DIMM, Sun memory, 30 and 72-pin SIMMs, laser printer memory, DDR chips and much more.